Our Story
MICHELLE "CHELLE" JACQUES

For the last ten years, Michelle is the Artistic Director/founder of the CHELLE! and Friends, New Orleans band and is the artistic director/founder of CHELLE'S JUKE JOINT a cappella ensemble. Michelle is a member of the San Francisco chapter Governor's Board of The Recording Academy. Michelle is also a Board member of the San Francisco's Gay Men's Chorus. Michelle performs educational programs for the San Francisco Symphony's Adventures in Music program and children's monthly summer concerts for Yerba Buena Gardens.  Michelle is Director of the Oakland School of the Arts, Select A cappella Chorus, the choir director for the Plymouth Church of Jazz and Justice. Michelle toured throughout the U.S and Europe with the a cappella quintet Street Sounds and CHELLE'S Juke Joint, performing with and alongside many well known artists including  Manhattan Transfer, Wynton Marsalis, Linda Hopkins, Chick Corea, Ladysmith Black Mambaza, Pete Seger, Al Greene, and The Persuasions. Michelle also performed in Germany, Belgium, Seoul Korea, France and in Switzerland, for the United Nations World Conference of Human Rights, Spectaculum-Mundi,  Cafe Theater Schalotte, The Gurten Music Festival, Voice Mania, The Montreux Off Festival and The  Berne Jazz Festival.   Michelle is the recipient of the City Of Oakland, Individual Artist grant for 2008, winner of the 1992, Contemporary A Cappella Recording Awards (CARA) for "Best Folk/Progressive Song", "Home Africa, studio recordings with the renown producer Greg Landau and the soundtrack for the Sundance Film Festival Official Selection, 2010 movie "La Mission" with Benjamin Bratt.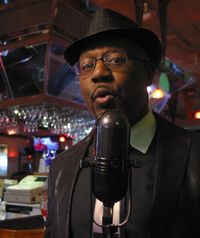 BRYAN S. DYER

Bryan S. Dyer is a multi-talented musician who not only sings but plays and teaches several instruments including bass guitar, percussion and piano; writes and arranges music, conducts choirs and groups, and works in television, radio and film. A veteran of some of the Bay Area's top vocal groups including Street Sounds, SoVoSo, Slammin All Body Band, Linda Tillery and the Cultural Heritage Choir and CHELLE! and Friends, He also performs with The Funk Revival Orchestra, Rankin Scroo and Ginger, Crosspulse Percussion & Dance Ensemble and of course, Juke Joint! His musical experiences have him taken around the globe including several trips throughout Europe, Japan, South Korea, Brazil and Jamaica and many legendary stages including Montreaux Jazz Festival, The Kennedy Center in Washington D.C. and Lincoln Center in New York. Bryan's talents have landed him alongside such artist as Al Green, Bobby McFerrin, Michael McDonald of the Doobie Brothers, Ladysmith Black Mambazo, the soundtrack for the movie "La Mission" with Benjamin Bratt, and Huey Lewis and The News to name a few.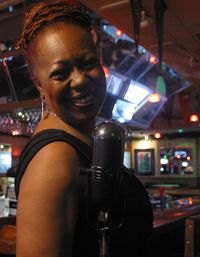 RHONDA CRANE

A well-rounded musician who sings, plays, writes, teaches and performs, Ms. Crane is a native of Brooklyn, New York, but a lifelong resident of the San Francisco Bay Area.  She is a graduate of SF's auspicious Lowell High School. Her vocal talents were developed in the Baptist Church, and she studied classical piano and viola through college. As a music major at San Jose State University, she sang in the opera  Aida and organized the Rhonda Hudson Singers, an off-campus Gospel Ensemble. Rhonda honed her craft as a music director in several local churches, and her last post was as Minister of Music at a Modesto church for over seven years, where she produced an annual Concert for the Community. Her professional career began in 1991 with Street Sounds, a capella quintet, singing on stages throughout the world with Winton Marsallis, Chick Corea, Al Green, Abby Lincoln and more. Rhonda is currently  a vocalist with the group CHELLE! and Friends, which has completed two CD projects: Sweet Bread and Voodooville. In addition to singing, she arranges vocals for a local band, and has begun writing songs for children. She holds a national youth co-director position for the annual Edwin and Walter Hawkins Music & Arts Conference, of which she has been a member for 26 years. She is the director of children's ministry and a choir member at Love Center Church, where she also sings in the late Bishop Hawkins 150-voice Community in Praise Gospel Choir. While not performing, Rhonda loves to run workshops, produce concerts and teach chorus and piano to schoolchildren in the San Francisco, San Mateo and Oakland Unified School Districts.  This love for teaching has earned her a 2014 Grammy Nomination for the NARAS Teacher of the Year Award.


JAY LAMONT

Jay Lamont is originally from Oklahoma City and is a graduate of Langston University with a B.A. Degree in Broadcast Journalism. Jay started out working as a radio personality for radio stations in Oklahoma City and Houston, Texas. After relocating to Houston, he embarked on a career in the comedy business as well as becoming a singer. Jay has opened for a wide variety of artists including the late great Luther Vandross, MAZE featuring Frankie Beverly, D.L. Hughley, Steve Harvey, Tommy Davidson, Cedric The Entertainer, Mike Epps, Jamie Foxx, R. Kelly, The Gap Band, The O'Jays and the late Roger Troutman. Jay toured Europe with Street Sounds. While in Houston, Jay was invited to perform at a local comedy club where he met various talented individuals who would help broaden his career. Jay has appeared on the first season of BET's Comicview as well as Showtime At The Apollo, Russell Simmon's Def Comedy Jam and Jamie Foxx presents Laffapalooza. Along with CHELLE! and Friends and  CHELLE'S JUKE JOINT, Jay is also the lead vocalist with two R&B groups. He has toured nationally and internationally.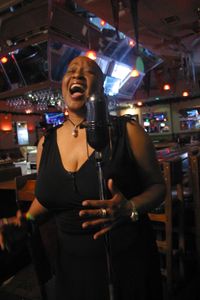 TAMMI BROWN

Tammi Brown is a sultry songstress and musician receiving broad praise for her rich tones, elegant phrasing, and stylistic versatility. Jazz guitarist Stanley Jordan calls her "a vocalist of immense talent." Tammi has appeared on stage and in the recording studios with some of the industry's best known artists. Her live performances have taken her to Apollo Theater in New York City, Yoshi's in San Francisco and Mumbai Stadium in India.  In addition, Tammi performed at the world-renowned Monterey Bay Blues Festival in June 2011 as well as The Monterey Jazz Festival in September 2012.  She recently signed a recording contract with New York based Motema Records.  Her highly anticipated first solo album is scheduled to be released in 2013.Tammi's early influences include legendary artists Aretha Franklin, Walter and Tramaine Hawkins, Chaka Khan, Ella Fitzgerald, and Dusty Springfield. By age four, Tammi was playing the organ and singing in church, where she developed an enhanced ability to play music by ear. Her career highlights include an invitation by jazz guitarist, Stanley Jordan, to sing background vocals for the tune Steppin' Out on his 2008 CD release, State of Nature, which received a 51st Grammy Awards nomination. Another highlight was co-producing with Tom Schuman of Spyro Gyra, the song, That's How it Goes, which gained a tremendous 'buzz' among industry insiders.  Adding to highlights, she sang an 'Opening Song' for the remarkable Renaissance Poet, Dr. Maya Angelou at the Santa Cruz Civil Auditorium in March 2011 as well as The Historic Arlington Theatre in Santa Barbara, California in September 2011. Tammi receives rave reviews for her performances as a featured vocalist with the White Album Ensemble and the Santa Cruz County Symphony and Monterey Symphony, in California. She is currently a featured vocalist with musicologist and two-time Grammy nominee, Linda Tillery and the Cultural Heritage Choir and JUKE JOINT.